Update 2016
Jerry's Kid's Fishing Day is back in a limited way!
Heber Downs Conservation Area is still not available to us for the 2016 event.
As a Volunteer group running an event for kids, we have no information about the Devils Den Pond Restoration so we cannot offer comments or predictions on it's use.
For information about Heber Down Conservation Area, please contact CLOCA.
This year we had to make the tough decision whether to cancel again or accept a very generous offer from a private group who offered a location that could accomodate a very small group of kids. We elected to run the smaller event for a select number of kids that we know may not otherwise get an opportunity to fish.
We are very fortunate to have this private location and Thankful Kid's Fishing Day is back.
The search for another location large enough to run an event for the General Public and conveniently located is still on. It's a big challenge and the Volunteers who manage this event are working diligently in case Heber Downs Conservation Area doesn't come back to us.
Anyone with a large property and Pond we can stock who is willing to host the event, is asked to contact us asap so we can plan for future years and bring this event back.

Good News! Saturday April 23rd was the
Annual Huck Finn Day in Uxbridge.
Click Here for More Information
It was another Fun Day in Uxbridge organized by several of the same Great People who help organize here. The Pond got stocked with Beautiful Speckled Trout.
Many were caught and all had a Great Day!
The event is primarily for Kids 15 and under, and it's a great all around Family Day!
Fun, Prizes, a Parade and More! Be There Next Year too!!

Click here for info and pics!
Keep an eye on our website for News of Future Evenst or send us an email to be kept informed of our progress.
If you can help us find a new location, please email us.
We'd like to Thank all of our past Sponsors and hope you'll come out for this years smaller event.
Everyone is welcome to come back when we get a new location and come back even bigger than before!
Have a Safe and Happy Fishing Season!
Play the 2012 Highlight Video now and come back soon .
2014 was Great and We Hope to Be Back Soon!
This is a fantastic opportunity for kids who have never fished before and we'll be back!
Many will learn how to fish with the help of our Volunteer Anglers who come out to make sure it's a great day for everyone! Every year lots ofl kids got to catch their First Fish ever!
The feisty Rainbow Trout is a great experience for Anglers of all ages and the pond also has Mudcat to provide lot's of anglers with a variety of fish to catch!
The Exhibits and Display area will be spectacular. From the Fun Casting Range, to Muskies Canada making lures, CLOCA with their experts on fish species and pond life and The Fly Fishing demonstration and Learning area plus so much more. See the Activities page to learn more and watch for videos and pictures from each display.
The Display Area will be buzzing all day long with Games, Face Painting, Educational Displays about Fish & Wildlife, an incredible display and educational demos on Furbearers and a fun hands-on Lure Making area plus Fly Fishing demos and Fly Tying demonstrations.
Thanks to the
Pickering Rod and Gun Club
whose members work very hard setting them up in Uxbridge just like they do here. They keep you in hooks, sinkers and floats so the Kids can have a great day fishing!
As always these dedicated fishing enthusiasts are kept very busy all day un-tangling lines, handing out worms and doing everything needed to make sure the kids spend their time fishing, so it's fun all around! Got a question about fishing? Ask any of the Volunteers. They're only too happy to help and you won't be the only person there who never tied a line or baited a hook so we're ready to help with everything you need to know.
Thank you Pickering Rod & Gun Club members!!! You make Fishing Fun!
Many lucky anglers who want to keep their catch for a meal can use our fish cleaning service provided by our friends at Calvary Baptist Church, who have been a valued volunteer member of Kids Fishing Day for many years! Uxbridge will also have a Fish Cleaning service.
Our many volunteer instructors will make sure the day goes well for you and your kids. Lot's of smiling faces, excited screams of delight and kids beaming with pride will be abundant as they bag their catch to take home for lunch. Our friends from the Durham Region Police will be out in force and will keep busy helping all around the pond and with the parking!
Thanks Durham Regional Police Service!
For More Information, view the Activities page and the About page or
use the email link on our Contact page.
All standard fishing regulations are in effect
Ministry of Natural Resources representatives are present to help inform and educate and make sure all young anglers get to learn the importance of fishing and why the rules help sustain and grow our natural fisheries.
Anyone who is a Resident of Canada, aged 18 and older, but under age 65 must have a valid Recreational Fishing License.
The Conservation Fishing License allows you to keep one (1) Rainbow Trout.
A Sport Fishing License allows you to keep two (2) Rainbow Trout.
Persons under 18 years old and over 65 (and some others) are deemed to have a Recreational Fishing License, equivalent to the Sport Fishing License and subject to terms and conditions available at the Official Fish Ontario website.
Heber Down Conservation area is part of the Zone 17 Regulations.
If you are still unsure of the rules and limits please ask one of our volunteers or the Conservation Officer who will be present, before you start fishing.
The Pond is Closed to Public Fishing until 11 am on the day of the event and will remain Open to the Public after the event. There will still be some Rainbow Trout there, so come back again and try your luck with your new found fishing skills.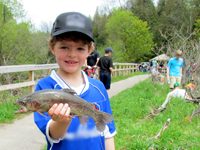 DIRECTIONS

We're Looking for a
New Location!
Please email us if you can help us find one.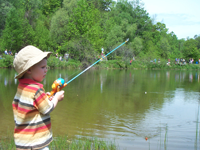 The Weather
Can Change!
Things that will be needed:

Appropriate Footwear
Sun Screen and Bug Spray
Drinking Water

Remember you might need a rain coat or poncho!

Watch out for Poison Ivy too!

Check the Weather report below and be prepared.